Work for Mama's Pizza!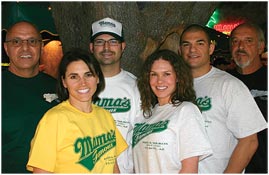 Interested in working for a company that is continually expanding? One that values personal growth as much as company growth? Do you enjoy working with others and are searching for a place where you will be rewarded for your efforts, a place which values employee ideas and contributions? If so, we would love to meet you!
Mama's is continually looking for goal oriented individuals with strong customer service skills to join our company. We offer flexible hours, employee discounts, and advancement opportunities.
We appreciate and respect those who choose to work for us. If you are interested in working for a company that appreciates employees as much as customers, a company that strives to provide a safe and enjoyable work atmosphere, and a place where the growth and advancement of employees is a number one priority, please apply.
To apply please:
Download and print the employment application
Fill out the application completely and return it along with your resume to the location of your preference.
4500 E. Speedway (520-319-8856)
7995 N. Oracle Rd. (520-297-3993)
6996 E. 22nd ST. (520-750-1919)
50 S. Houghton Rd. (520-751-4600)
Downloadable Employment Application (PDF)
Upcoming Events & Promotions
Pizza is Special! Don't forget pizza for the upcoming Holidays; Cinco de Mayo (May 5), and of course Mother's Day (May 13)!