The History of Mama's Pizza!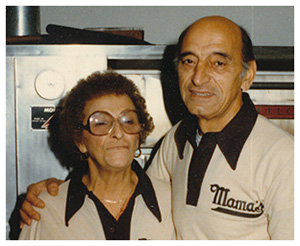 When a woman becomes a mother to even one child, her heart expands to include all children. When that woman happens to be Italian, her heart is not the only place where children are welcome. It is within her kitchen where she truly defines family, home, and love. And that is exactly what lies at the heart of Mama's Famous Pizza and Heros, a family tradition in Tucson for more than two decades.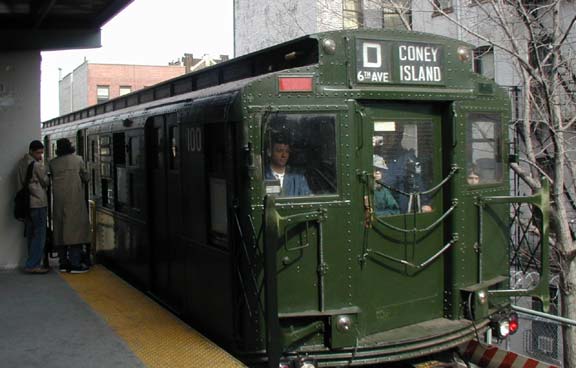 The story of Mama's is rooted miles away in New York City, but the catalyst for bringing the restaurant to Tucson springs from the love that ties children to parents. After many years of living and working in New York City, Joe and Eleanor Spina decided to retire. In 1975, with promises of monthly visits from their children, Kathryn, Joe Jr., and Vinnie, Joe and Eleanor packed their household memories, said goodbye to Long Island, and set their sights on Tucson.
After only a few long flights back and forth, Joe and Eleanor's children decided they missed their parents, that family was just too important to waste time in the air. They made a collective decision to move West, their own manifest destiny.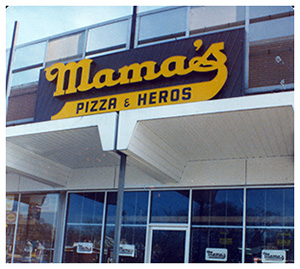 At the time, however, Joe and Vinnie were running a construction business in New York. They thought about moving the business, but it seemed too risky. Instead, Vinnie proposed that they begin a pizza business. Joe agreed, but before taking such an adventurous step in Tucson, they opted to build their experience in New York, just a few steps away from their existing offices. With support from the family, they opened their first Mama's Pizza and Heros in 1979.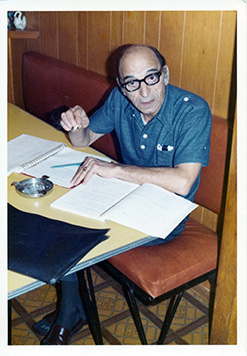 According to family members, choosing a name for the restaurant was easy. The word Mama represented family, home, and love. It is a word common in many languages and could transcend the test of time, it was a nod to Mama, who always wanted a restaurant. When the doors to the New York restaurant opened, Joe, Vinnie, Kathryn, and Mama and Pop (who traveled east for the event) celebrated the grand opening together.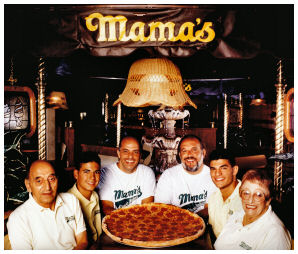 The success of the New York business opened a window of opportunity for Joe and Eleanor's children, who stayed strong to their commitment to move to Tucson to be closer to their parents. Garnered with newfound experience in running their first restaurant, Joe and Vinnie sold their New York construction and pizza businesses in 1980. In 1981, after much scouting around Tucson, the family opened its first Mama's Pizza and Heros near the University of Arizona. Joe and Eleanor, who fast became known as Mama and Pop to the local community, relinquished retirement and began helping out in the kitchen and office. Quality food, infused with incredible service and lots of energy, quickly turned Mama's from a fledgling newcomer into a new Tucson tradition.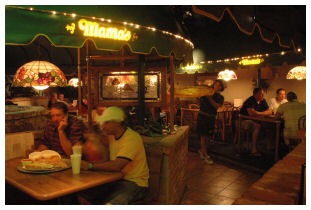 Joe Jr. and Vinnie credit their early success in Tucson to the spectacle of seeing an authentic Italian family with thick New York accents running a pizza place. The food, emanating from a heart-filled kitchen draws each customer into a circle of family. Mama's has grown to include three more locations, including restaurants in mid-town and on the north and east sides of Tucson. The first locale closed in 2001 due to renovation of the university business district.
Pop died in 1992 and Mama joined him in 1999, yet their legacy of love, family, and home continues. Their children, and now grandchildren, operate each restaurant in their memory. Every customer who enters Mama's can be assured of a hearty welcome home. After all, a mother's heart expands to include all children, and if she is Italian, well, the sauce is always on, the oven is ready, and there is always an extra plate at the table.
Upcoming Events & Promotions
Pizza is Special! Don't forget pizza for the upcoming Holidays; Cinco de Mayo (May 5), and of course Mother's Day (May 13)!